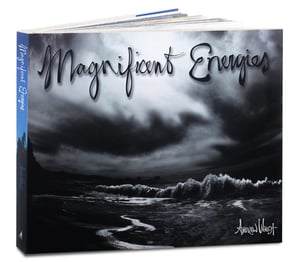 $

445.00
Magnificent Energies: Andrew Walsh [Hardcover] L.E.
After 18+ months of active-minded designing, paginating, private showings, professional consultations and the deepest deliberations, MAGNIFICENT ENERGIES is finally available for purchase!
Additional (more affordable) variations of this book can be found if you CLICK HERE!!!
The print run for this hardcover, clothbound edition will be limited to 50 copies and will never be re-printed. Each exquisite copy will contain the purchaser's name (or name of his/her choosing) and arrives at your door, hand-signed by the artist and individually numbered on the title page to guarantee authenticity.
Book Description:
Magnificent Energies is the first collection of photographs ever published by photographer Andrew Walsh. This hardcover edition has been specifically created as a very special first release and no expense has been spared.
This collection contains images shot by Andrew between 2005 and 2013. The photographs were captured in Oregon, Washington, California, Hawaii, Colorado, Minnesota, Wisconsin. The magnificent energies of these locations and subjects are captured as found, with virtually no alterations or styling. Andrew takes great pride in capturing all elements in camera and at the exact moment when conditions are perfect. This often requires a great deal of patience and awareness.
Andrew's photographs strive to capture the beauty of places and things that are largely unseen, so that the viewer may see beyond the ordinariness of daily life and into the awe-inspiring places and energies that surround him.
Release date: March 25, 2013
By Andrew Walsh
Edited by Ryan Walsh
Text by Andrew Walsh
Clothbound (Oatmeal) Hardcover, Dust Jacket: 140 pages
Pages are printed on ultra-high quality ProLine Uncoated paper (100# Text, Eggshell Texture)
Publisher: A Dub Pub
Language: English
ISBN-10: Not Yet Available
Dimensions: 13 x 11 inches (33x28 cm)
41 Color and 66 Black and White Images
Please note that all blank pages in the book were chosen as part of the design by the publisher.
A Dub Pub is a Division of Andrew Walsh Photography
For group or special sales orders please contact a@andrewwalshphotography.com
To book Andrew for private instruction or speaking engagements contact Andrew at: a@andrewwalshphotography.com
Printed in the United States of America on a four-color, digital offset printing press
Copyright © 2013 Andrew Walsh Photography. All rights reserved. No part of this book may be reproduced in any form without written permission.
*Product photos featured in this listing may vary slightly from actual product. Product photos will be updated to the latest versions as quickly as possible. Any differences will be very minor, all major elements have remained the same.
All shipping methods include insurance, tracking, delivery confirmation and signatures are required to deliver- to ensure no copies are "lost" as to maintain the integrity of the printed 50 copies.
If you have further inquires about shipping specs or questions in general email: a@andrewwalshphotography.com