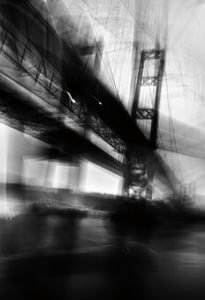 $

50.00
ALL PRINTS SHIP FREE!!! Yes, FREE!
This black and white photograph is one in a series entitled 'On the Train' featuring epic textural landscapes of the Pacific Northwest coastline with the use of a moving Amtrak train, a zoom lens and dramatic, intentional and precise camera movements. This is AWP's premier abstracted landscape image, a classic and forever unforgettable for those who appreciate art that pushes boundaries!
Tonal range and b&w conversions were applied to the raw files in this photograph and throughout the series and are the ONLY adjustments/enhancements made (no Photoshop or filters) to this image. Basically, besides the black and white treatment all the aesthetics were captured in camera!
Prints are available on: Fine Art Paper, mounted on Wood (Bamboo or Maple), Canvas Wraps, Fiber Based Silver Gelatin, Resin Coated Silver Gelatin and Metal.
See details about all of these options in the INFO section to the right of the screen on the bottom of the page.
ALL PRINTS SHIP FREE!!! Yes, FREE! (United States Only)